5 Ways That Print Advertising Can Help You Promote Your Brand

While marketing experts are usually good at print advertising, they may still not give it the credit it deserves since it isn't as easy to track, and it can be more costly than other forms of Kansas City advertising.
But with that being said, advertising in magazines and newspapers can be an excellent way to tap into a local audience or a new market since you can hyper-target readers (based on geography and demographics).
And with the right preparations, you can easily measure your success too.
But first, let's address the elephant in the room.
Why do Print Advertising?
While print marketing may not be on the rise, it is still far from "dead."
Its popularity (or lack thereof) in modern culture doesn't take away from the benefits that it provides.
For example, higher engagement compared to digital methods as well as a higher trust factor. These benefits are crucial for achieving the greatest impact with your Kansas City advertising.
Perhaps you'd like to test out print advertising in your organization. Read on to find out how.
1.) Reach Your Target Audience
Just like how various marketing campaigns will go after certain personas, publications have their own target audience/target readers as well.
There is lots of variation amongst readers across the different publications. So it's your job to figure out which publication's target audience best matches your own target audience's personas and budgets.
Consider your customers' location, interests, and demographics, and then you can imagine what sort of publications they might like reading.
Once you've found some promising publications, you can probably find a media kit on their websites or from their company reps. It's often the case that you will be able to buy ads in a few different issues for your preferred publication at a lower rate per ad.
2.) Coupons Motivate Purchases (Printed Ones Work Best)
We can define value differently, such as teaching consumers about your service or product or offering them discounts. To be more specific, retail establishments may benefit by putting coupons in their printed ads.
According to a study from the RetailMeNot and The Omnibus Company, 96% of Americans have used coupons, and this statistic isn't limited to certain age groups, locations, or gender.
The best thing is that coupons provide something tangible. It motivates customers to take the initiative. According to research done by Valassis, 91% of consumers like using paper coupons most.
And when we look at the 2018 Inmar Shopper Behavior Study, 83% of people who responded in the survey indicated that the presence of coupons helped influence their buying decisions, such as pushing them towards a certain brand or making them buy more than they intended, or pushing them to make a purchase sooner than they originally planned.
The bottom line is that if a customer sees your print ad and believes they will get a good deal, they will be very likely to respond positively to your ad.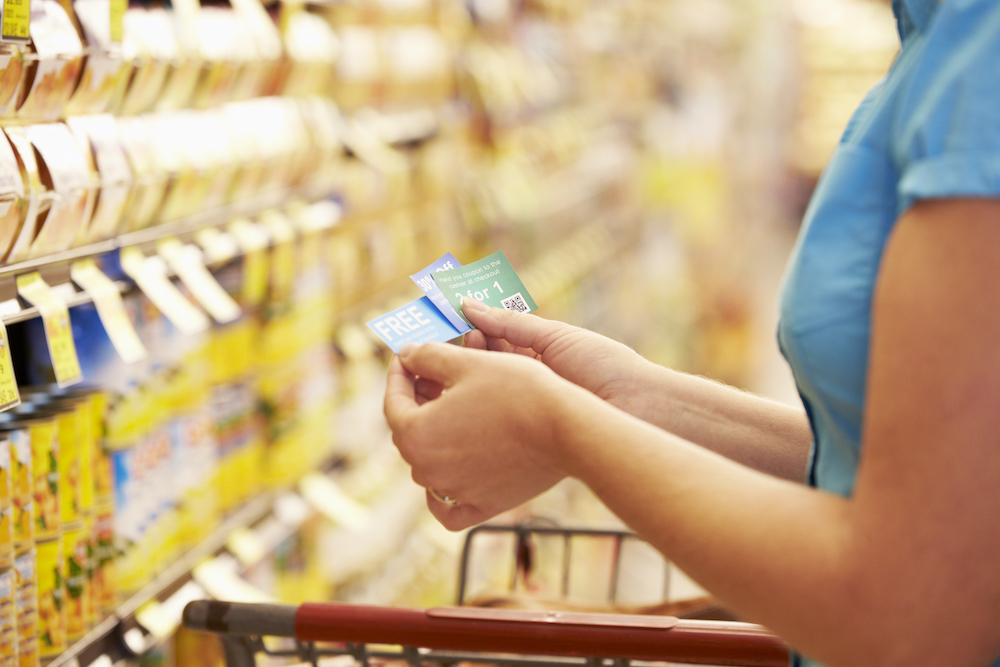 3.) Make Your Ad Short, Sweet, and to the Point
When you pay so much money for that spot in a print publication, you may feel compelled to fill that space with as much information as possible.
But you must resist that desire!
To use a print ad effectively, you should just include one very specific purpose for your ad, and this can be communicated with some brief text and a single image.
What purpose would be so important as to fill this crucial space? It could be creating brand awareness, engaging with a new segment of your target audience, or launching a new product or service.
No matter what purpose it may serve, the ad should be short, sweet, and memorable.
4.) Keep It Simple and Clean
In addition to sticking with one purpose for your ad, make the design of your ad as simple as possible. Utilize white space where it makes sense, choose appropriate colors (learn about color psychology), and use a clear and bold font.
Think of the old adage "show, don't tell." This adage is especially true for printed ads since most people will only glance at ads very quickly before moving on to the next one.
Since this is the case, it's useful to include visual metaphors, consider the 5 senses and make your ad appeal to them, and fall back on other visual trademarks of your brand, like your logo and colors.
It's also a good idea to include a focal point, like your product, an animal, or person (people work great), to draw people's eyes to.
Regardless of how you prefer to do things, each element of your print ad should tie back to its core message.
5.) Combine Print With Digital
There's no reason not to use other marketing channels.
In fact, print advertising and digital marketing are not competing or opposing methodologies. They can work hand in hand together. For example, you might want to create a bunch of new banner ads to launch on the publication's website in conjunction with buying a print ad.
Another option is increasing your social media spending during your print media launch as part of a larger marketing campaign. Regardless of the channels that you use, your branding must stay consistent. That means using the same color palette, same logo, etc.
Also, incorporating your digital marketing methods into your print ads is a great way to drive consumer actions. For example, your print ad should always include a link to your website. It could also include a QR code (for smartphone users) that can take them to your website or product offering.
Other options could be doing a social media hashtag campaign or requesting consumers to give their response or feedback to the ad on social media. Good social media websites for this are Snapchat, Instagram, and Twitter.
Conclusion
Businesses should not ignore print advertising as a way to advertise. Ignoring it could mean missing out on lots of potential business. The bottom line is that print is still relevant in today's world, and it can improve the overall effectiveness of your marketing endeavors.
Are you wondering how you should do Kansas City advertising? Get in touch with us today, and we'd be glad to help answer your questions.