7 Tips for Creating Attractive Print Ads

Every business needs promotion and advertisements. Even though we are in the digital era, we still need to invest in print advertisements. Why? Because it can guarantee that you are at the top of people's minds when you reinforce digital and physical platforms. Through these ads, the audience can quickly remember your brand.
If you decide to integrate creating attractive print ads into your marketing, we've got you covered. Here's our ultimate guide to kickstarting your print ads.
Effective Tips and Tricks: How to Create Attractive Print Ads
The top priority in creating ads is how you can capture their attention in a limited time. So how do you develop compelling and attention-grabbing content? Here are some design and content tips you can follow.
1. Create an Impactful Headline
Before the audience continues to read the content, they look for the headlines first. Is it interesting? Is it something that resonates with them? Is it worth reading?
Compared to a digital platform, print advertising is less saturated. You need to note that you need to capture the reader's attention in any advertisement and persuade them to read your content. How can you do this?
Make your headline concise and short.

Create curiosity or include benefits.

Use simple words that the readers can easily understand.

Specify a pain point and let them know how you can help them.

Integrate emotional adjectives.

Utilize your brand or target audience's language.
Make sure that your headlines are catchy enough to keep your readers entertained or interested. It will be more helpful if the headlines are easy to comprehend. Moreover, it should reflect your brand's image.
2. Discuss the Benefits
Advertising is a way of promoting or introducing your brand, product, or service to the market. Of course, you need to share how your products or services can help the audience's problems through the print ads. Besides explaining the features, it will be easier for them to understand if you share its benefits.
For example, you are selling a cellphone with competitive battery life.
Feature:

Battery Life

Benefits:

Long-lasting usability and no frequent charging
3. Incorporate an Eye-Catching Graphic
Excellent graphic design can help you in conveying your message or campaign. Plain text does not excite the audience to continue reading your content. Through the graphics, you can communicate with your audience and display your products or services. What's in store for them?
Help your potential clients understand your offer through a high-quality graphic. Make sure that the images are relevant and accurate to boost brand recognition.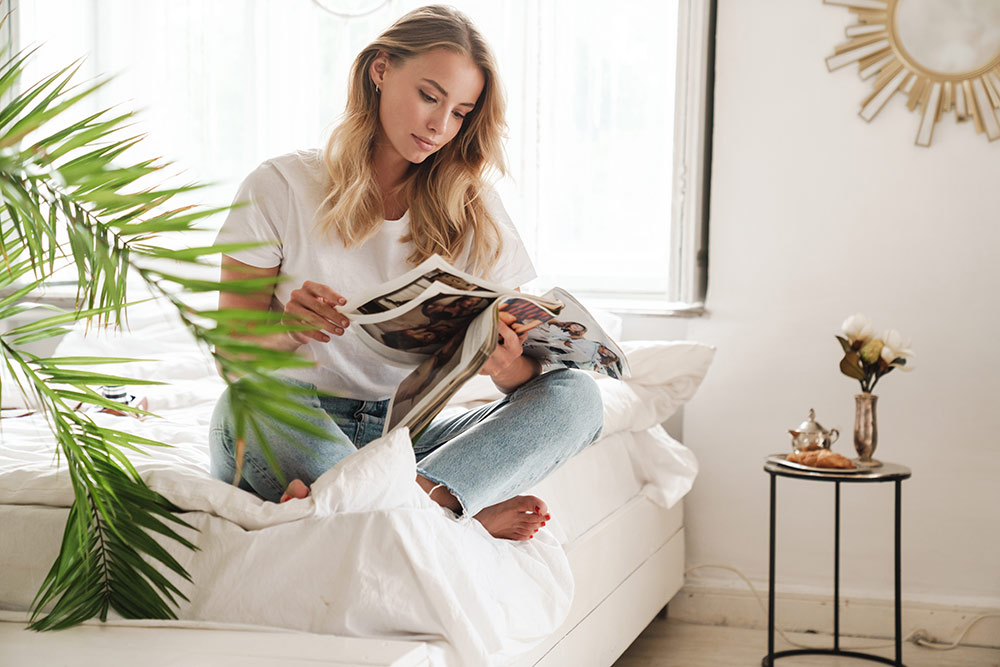 4. Provide a Compelling Offer and Create Urgency
Besides creating high-quality content, emphasize your promotion. If you have an ongoing sales campaign or special deal, make sure to showcase it. Also, highlight what they can gain from reading your ads. Apart from the information, what are the benefits they will get? Will they have a reader's discount?
After they read the ads, what will happen? It would be best if you create an urgency where they need to take action after reading. Here's how you can develop a sense of urgency for your potential clients.
Season or Event Offers

Time-Limited Offers

Clearance Sales
5. Think About the Call to Action
Remember that your print ads should include how customers can take action after reading the advertisement. Most customers don't know what they should do if you don't guide them. Moreover, you will waste your money on ads if you don't integrate an excellent call to action wherein they can reach out to you.
You can tell your potential clients to give you a call, email, or message you, visit the website, or get a special offer. There are different ways to tell them to connect with your business. Also, you want your clients to move towards your business and get in touch with you. Here are some of the best CTAs you can use:
Talk to Us or Contact Us

Join Now

Get a Free Trial

Sign Up or Subscribe

Learn More
6. Utilize a Simple Layout
The advertisement layout helps the readers understand your message and provides supporting ideas about the ad. Conversely, the copy encourages the potential clients to take action.
In advertising, avoid clutter and providing too much information to prevent readers from skipping your ad. Make it short, simple, and concise.
In creating an advertisement layout, take note of the following:
Color Scheme

Clarity of Message, Concept, or Idea

Font Style and Size

Relevant Graphics or Images
7. Embrace Your Brand's Uniqueness
With all the advertisements available on digital and physical platforms, always think about standing out from the competition. Answer these questions:
What products and services can you offer to the public?

How can your business help your customers?

What's unique about your business branding?
Most brand owners or entrepreneurs try to copy other owner's ways of advertising. But to succeed in the competition, you need to establish your business branding and goals. People will remember your business through effective and credible print ads.
Are you looking for Kansas City advertising to ensure that your business is easily noticeable? We're here to help you get started. Apart from knowing that your products and services are one-of-a-kinds, make sure to connect to your target market by being authentic and relevant with your print ads.
Start Creating!
This might be the perfect opportunity to start with print advertising. While some think that print ads aren't trendy, take advantage of print ads to be a more credible business. You can boost your response and conversion rates through actionable print advertisements.
Although digital campaigns help you with projection, conversion, and engagement, we can't deny that printing an attractive ad in a highly reputable magazine is also beneficial. You can easily target your audience and deliver to them in a specific period or location.
On top of that, you can gain trust from the public through reliable printing ads. If you opt to display your content through print ads, more people will be confident with your brand's credibility. If you are looking for Kansas City advertising, take action now and start creating your print ads. Hopefully, our tips will help you in navigating the print advertisement industry.